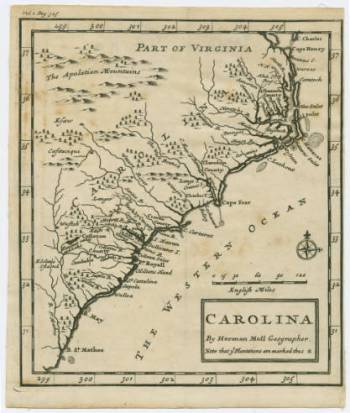 On June 2, 1690, John Gibbs issued a declaration claiming his right to the governorship of Carolina and called on the people to obey him. Gibbs proclaimed himself chief executive of the colony, basing his claim on the Fundamental Constitutions when Governor Seth Sothel was banished earlier that year.
Despite that, Philip Ludwell arrived in the colony in the spring of 1690 with a governor's commission from the Lords Proprietors, on whose authority North Carolina was colonized. Ludwell set up his government, but Gibbs was determined not to give up the governorship. Gibbs referred to Ludwell as a "rascal, impostor and usurper" and said that he would fight anyone to keep Ludwell from the governor's office.
The next month Gibbs and some supporters entered the Pasquotank precinct court and broke it up. Gibbs forbade the holding of a court without first receiving a commission from him. The force seized two magistrates, took them as prisoners, and held them captive on Gibbs's Virginia plantation.
Upon hearing of this, the Albemarle council–that's the government backed by Ludwell–sent the militia to stop this rebellion. However, the militia refused to enter Virginia without permission from that colony's government.
Gibbs and Ludwell both went to England to make their claims before the Lords Proprietors. The proprietors upheld Ludwell's commission.
Other related resources:
For more about North Carolina's history, arts, nature and culture, visit DNCR online. To receive these updates automatically each day, make sure you subscribe by email using the box on the right, and follow us on Facebook and Twitter.
Related Topics: