Author: Karl Galloway
North Carolina music is a microcosm of American music, its mountains being among the first spaces to foster the sounds that would become country and bluegrass. The "Minstrel of the Mountains," Bascom Lamar Lunsford, hailed from Asheville, long a repository for old time and bluegrass music, and the site of the Mountain Dance and Folk Festival, the longest running of its kind in the United States. So it's no surprise that so much of the surrounding music and traditions have been funneled through one of the town's oldest radio stations, WWNC, whose call letters stand for "Wonderful Western North Carolina." WWNC signed on the air in 1927, originally broadcasting from the Vanderbilt hotel and eventually moving locations to the Citizen Times Building.
The building was constructed in 15 months in 1938-1939, and designed by architect Anthony Lord as the grand center for the city's two newspapers and radio station. The massive three-story building of reinforced concrete, black granite and limestone is considered Asheville's finest example of Art Moderne. Ever since its construction, the building has been a center of culture and creativity. Writers Thomas Wolfe, O. Henry, both buried in Asheville, and F. Scott Fitzgerald, a common visitor of Asheville, frequently could be found in the newsroom in earlier days.
In its heyday, WWNC was one of the most popular radio stations in the country, and from its studios new bluegrass sound was presented for the first time to broad audiences across the country. The first time the world heard Bill Monroe and the Blue Grass Boys was on February 2, 1939, at 3:30 pm when the group played a fifteen-minute segment on Mountain Music Time, broadcast from the Citizen Times building. If you haven't heard of the Blue Grass Boys, they're pretty important. They gave the genre its name (an homage to the blue grass of their native Kentucky) and Bill Monroe is considered the godfather of the canon. The Blue Sky Boys, comprising Bill and Earl Bolick also got their start at WWNC in 1935 in Asheville, earning great popularity during the 1930s and 1940s.
Another genre shaper has graced the halls of WWNC. Jimmie Rodgers, a rambler by nature, always wanted to play music. By the age of 13, he had organized and led two shows. His father, worried that his son wouldn't make a living, guided him to a career on the railroad. Beginning as a water boy and ultimately becoming a brakeman, Rodgers pursued this until he was 27. It would turn out however that for the musically-inclined Rodgers, the railroad was a perfect place to hone his craft. The work chants of African-American workers and the picking and strumming styles of hobos and rail workers would inform his musical knowledge and sharpen his skills. Country music began as many things, including tejano and hillbilly music, old-time, and blues and Rodgers' exposure to these sounds in his travels and on the railroad helped him coalesce many of these traditions into what would become known broadly as "country." In 1927, after a bout with tuberculosis forced him off the rails, Jimmie Rodgers, the father of country music, performed at WWNC and on the air for the first time.
Recently, Jim Lauderdale, a Come Hear NC musician and modern day bluegrass and country star, performed one of Rodgers' hits, Carolina Sunshine Girl at Citizen Vinyl, in the former location of WWNC. In a continuation of Rodgers' legacy, the building's halls rang again with his music. Jim Lauderdale said of playing in places where great music has been made, "you get the feel about great music, it's still livin'."
If all this talk of analog sound makes you nostalgic, you're not the only one. There is growing interest in older listening experiences, including records, the fastest growing listening demographic being 19-24 year olds. Responding to this surge, North Carolina's first record press, headed up by Gar Ragland, has set up shop in Asheville. Citizen Vinyl now operates in the former Asheville Citizen Times building, where newspaper presses used to run all day. Now, the recording material of choice is wax instead of ink. For real vinyl nerds the machine Citizen Vinyl uses is the LiteTone, a semi-automatic 10,000-pound beauty manufactured by Viryl Technologies in Canada. But don't be put off if you only just got into wax, or if you've referred to a collection of L.P.'s as vinyls (vinyl is the plural). Records are for everyone! Engaging in a different kind of listening experience is really important in the time of online music streaming. Opening up a gatefold, reading the liner notes, and looking at the cover art while you listen is a wonderful multimedia experience that can help the listener slow down and truly absorb the music. Citizen Vinyl is dedicated to inviting listeners in, and the pressing plant, operated under the guidance of German native Peter Schaper, is behind glass and open to view.
Fittingly, the first album off the press will be an NC band. Chapel Hill based Mandolin Orange, in partnership with Citizen Vinyl, is putting out a double L.P. live recording of a 2020 performance at Austin City Limits. The group's music, full of guitar, fiddle, harmony, and a little twang, would have been right at home in one of WWNC's old recording sessions.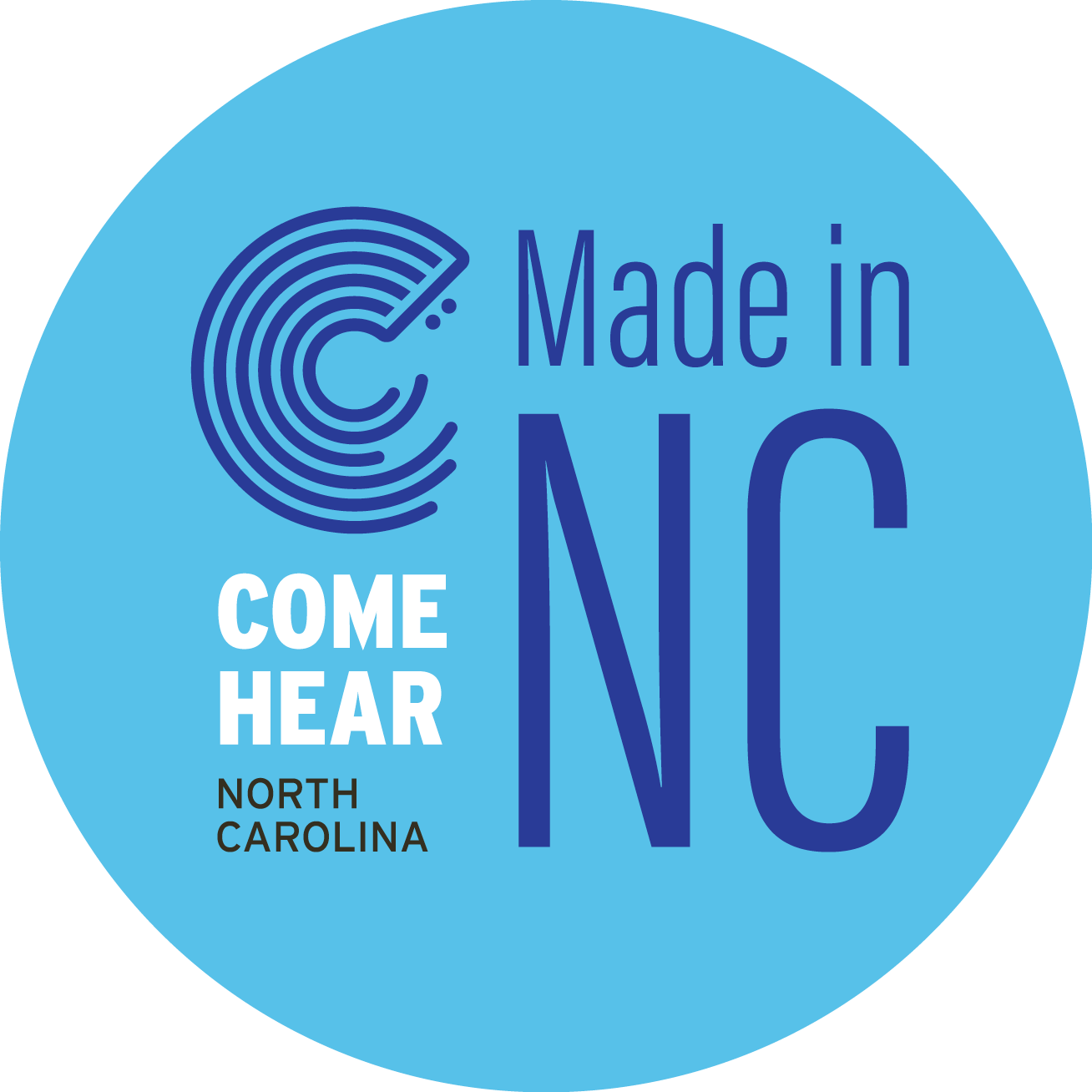 Highlighting the rich musical terroir of our state, each record pressing made in partnership with Come Hear NC will be affixed with a Made In NC sticker. Come Hear NC is proud to support Citizen Vinyl and its work to continue a tradition of music making in the mountains.
Related Topics: