Author: Jan Davidson, Cape Fear Museum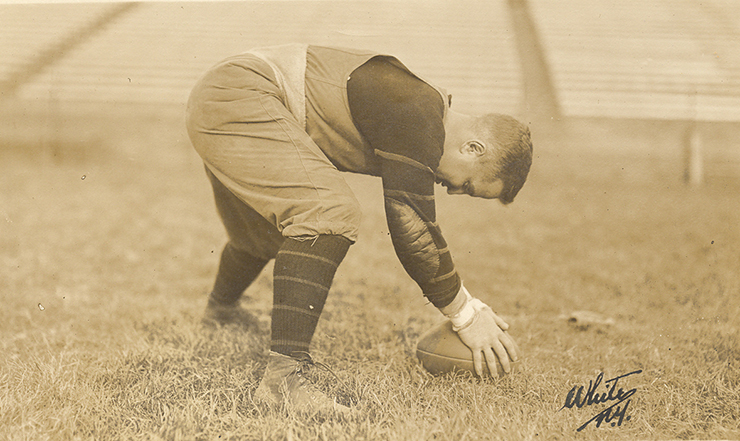 Arthur Bluethenthal was born in Wilmington in 1891, the son of German Jewish immigrants, Leopold and Johanna Bluethenthal. Arthur received his early education in Wilmington and then attended the prestigious Philips Exeter Academy in New Hampshire. In 1913, he graduated from Princeton University, where he had been a football star. After graduating, "Bluey," as he was called by his college friends, went to work for the family business and coached football at the University of North Carolina at Chapel Hill and at his alma mater, Princeton.  
Arthur's life changed when he volunteered for the Allied cause in Europe. In May 1916, after world war had raged in Europe for two years, Arthur boarded a ship and set sail for France. Almost a year before the U.S. entered the war, he joined Section 3 of the American Ambulance Field Service. The ranks of the American Ambulance Field Service were filled by well-to-do college graduates. That was in part because volunteers needed to drive and cars were a relatively expensive, still-new technology. Young, rich men were most likely to know how to drive and to additionally have someone who could support them financially as they volunteered overseas. 
Bluethenthal first served on the French front, in Verdun, where he had, as he put it to his sister, "…many pretty dangerous experiences." In October, 1916, he and fellow members of Section 3 went to the Balkans with the French Army of the Orient. In the Spring of 1917, Bluethenthal received a Croix de Guerre for his service. According to the citation, he was "...a constant example of indefatigable ardor and ignoring of danger, particularly in June 1916 in the most perilous of the evacuation before Verdun, operated on a road continually and violently shelled, continued his example and excellent services in the Bois le Prétre in the summer of 1916 and at Monastir [Tunisia] in December 1916 and January 1917."  
After American entered the war in April 1917, Arthur asked for a transfer to more active duty with the French, and in May he joined the French Foreign Legion as an aviator. Arthur's parents were clearly unhappy with Arthur's decision and, for a time, stopped writing their son. But Bluey declared "I am doing what I consider my duty.  I did it in no flush of enthusiasm or burst of patriotism. I had my choice and I took what appealed to me most…. If you feel that my actions are so atrocious that you feel that you can't write, well, I can't help that either. I will write you every week to say I am well." 
Although being a pilot was a dangerous business, the wheels of the French bureaucracy seem to have turned slowly. It took months for Arthur to be trained as an aviator. In the downtime, Arthur sometimes second-guessed his decision to stick with the French.
When he finished his aviator training, he secured a much-desired leave, and in January of 1918, Bluethenthal came home to Wilmington. Upon his return to France, he planned to try to transfer to the U.S. Army or Navy. But because he was actually flying missions with the French, he was reluctant to leave them in the lurch. In March 1918, he wrote home that he didn't want to switch to the U.S. Army because "when the American Aviation is not in the field it would be almost like quitting to go and get out now…. I don't feel like going to the rear now when every trained man is so badly needed." Bluethenthal expressed the same sentiments in May of 1918: "We are all being left in our French squadrons during the attack. Soon as we aren't need out here, we will be called in to join up. I am not very keen on quitting here but I suppose I'll be better off in the American service." 
Because he was a relatively large man, Bluey was trained and flew as a bomber pilot. This assignment meant he was sent to Northern France to, as he put it, "…get my hand in at dropping bombs and flying." As an American who flew for France, Bluethenthal was a member of the Lafayette Flying Corps, although he was not a member of the famous Lafayette Escadrille. 
On May 21, 1918, Arthur wrote to a friend that he was going to join the navy but not until things calmed down. He also declared, in typically wry fashion, "I am going to ask for a couple of days in Paris if for no other reason than to take a bath." Arthur did get that leave; on June 1st, he told his parents that he'd been in Paris for five days and was back with his unit. Again, he brought up plans to join the navy: "…I am well and will join the naval aviation as soon as the attack is stopped." 
Sergeant Bluethenthal never did join the U.S. forces. On June 5, 1918, while still flying for the French, Arthur Bluethenthal was killed in combat. His plane was shot out of the air. Immediately after his death, the French government posthumously awarded him the Croix de Guerre with Palm. In 1922, they further honored him with a Médaille Militaire. Bluethenthal was one of 68 Americans who died in the air while fighting for France.
When news of Bluethenthal's death spread, the whole of Wilmington stopped to honor the fallen man's service. Then-mayor P. Q. Moore ordered all the flags in the city to fly at half-mast. On June 20th, local businesses closed for one hour at lunch time. Mourners poured into, and overflowed the capacity of, the Academy of Music, as Thalian Hall was then called, where they heard speeches by the mayor and speeches and prayers by local religious leaders, including a moving prayer by Dr. S. Mendelsohn, who was the rabbi of the Temple of Israel, the Bluethenthal family's place of worship. The stage was decorated with flags of the allied nations, and a portrait of Bluethenthal, one that he'd had commissioned while he was in France, was at the front and center of the stage. Laurel wreaths were sent by groups such as the alumni of Princeton, the Rotary Club, the Red Cross, and the Temple of Israel and hung around the portrait. A flag with a single gold star stood above the portrait. Chopin's funeral march was played.  
There was no casket or burial because Arthur Bluethenthal was initially interred in France. Three years later, in January of 1921, Arthur's body was exhumed to be returned to Wilmington. The American Vice Consul Harold Finley wrote to tell the family that "The decorations which had been place on the grave were enclosed in the outside case of the new coffin." Chief among these was a palm leaf in bronze marked "From Section 3." This was attached to the underside cover of the outside box. Wilmingtonian Louis B. Orrell, who attended the exhumation, told the family "It will be a source of satisfaction to you to know that your son was buried with great tenderness and care as was clearly evidenced by the condition in which his body was found. He was wearing, at the time of his death, a French Aviator's uniform and a heavy fur lined overcoat and his under-clothes were marked with the initials A.B."
When Arthur was re-buried in Wilmington, the family held a private ceremony rather than a military burial. Arthur's brother, Herbert, went to New York and "accompanied the body to the city, and the flag draped casket was met at the station by a few intimate friends of the family who escorted it home." Services were held at Arthur's home, and then Bluethenthal was buried in the Jewish section of Oakdale Cemetery.  
On Memorial Day, May 30, 1928, in a well-attended ceremony, Wilmington's local airport was named after Arthur Bluethenthal. Military bands played music, planes from Fort Bragg and other air stations flew over the field, and religious leaders and politicians spoke. Arthur's little nephew and namesake, Arthur Bluethenthal, was supposed to unveil the marker, but he seems to have become too nervous to perform the ceremony, and the duty fell to his older brother, Herbert. 
Interested in viewing more items related to Arthur Bluethenthal's life and World War I service? Check out a digital collection here. Special thanks to Jan Davidson and the staff at the Cape Fear Museum in Wilmington, North Carolina, for sharing Arthur's story and images.
Related Topics: